I am excited to get the chance to do another baby boys nursery! My sister in-law is having a baby boy and he is due in April. We are in Utah for Christmas, that is where they live. So we are taking on the project of getting it all finished in two days. Oh boy! I love stuff like this. I ordered everything online, so I don't have to do much shopping. Just the labor and we have people with tools and talents helping us. Sharing the design plan for the nursery and the projects we want to tackle.
I am partnering with Lowes on this Nursery Project. I have worked with them on THIS Mud Room Remodel that I did for a family who applied for the makeover on my blog and were selected. Lowes is such a great company and I love working with them on projects to share with all of you! Also such a gift to give this to my sister-in-law and her hubby.
Nursery Design Plan-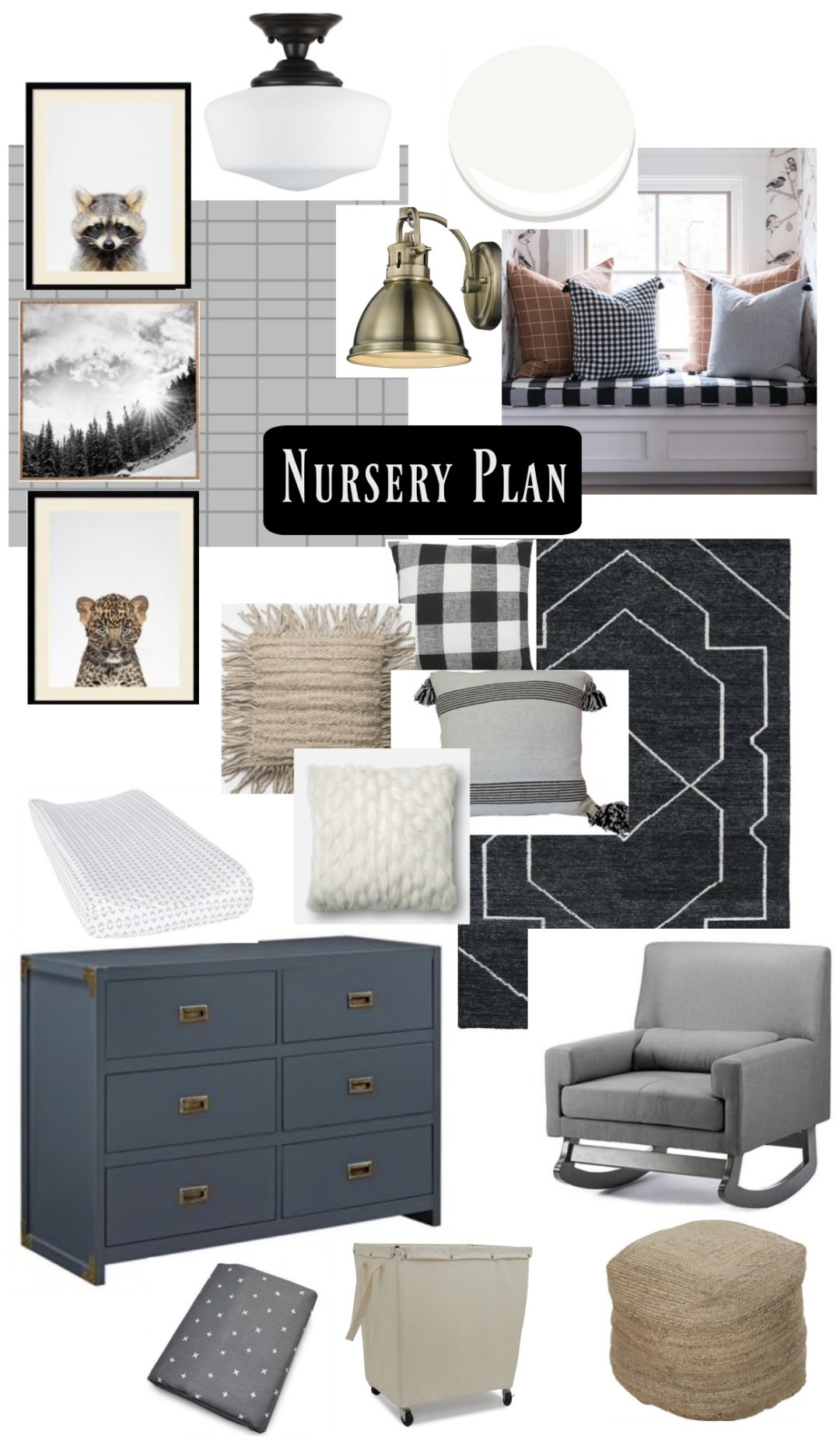 Click on an image to easily shop it!
Racoon Art // Leopard Wall Art // Mountain Art // Wallpaper // School House Light // Gold Sconces // Buffalo Check Pillow // Cream Pillow with Fringe //
Gray Pillow with Stripe and Tassels // Cream Pillow with Black Pom Poms //Charcoal Rug // Changing Pad Cover // Dresser // Gray Rocking Chair // Crib Sheet // Hamper // Pouf
Nursery Projects-
Paint the entire room in Pure White from Sherwin Williams (Satin) (same color we did on this Mud Room)
Wallpaper the Crib Wall in THIS wallpaper
Build a Window Seat and Bookshelves on either side of the Window (Going off of the idea of our Kitchen Banquette Window Seat)
Install a new Levelor Bamboo Roman Shade (I picked up at Lowes)
Change out Current Light Fixture to THIS one
Plank a wall where we are putting the dresser that will double as a changing table
Prime and Paint Bookcase and Window Seat in Oxford White (semi-gloss) from Sherwin Willimans
Add Sconces to the Bookcase and attached THESE battery operated lights (with remote)
Nursery BEFORE-
We will be doing the window seat and bookcases around that window. And below in that little cutout there will be wood planks painted white.
I will of course be sharing the after here along with the detailed tutorial on how to build the window seat and the other DIY things we do.
The fun thing about TODAY is you can follow along with the project in real time over on my Instagram Stories today! Hope to see you there! Follow HERE if you are on your phone you can watch my stories.