Remember the Nursery Project Plan I shared? Well we did it! We completed an entire nursery makeover in just TWO DAYS! It was so much fun to work on this FOR family WITH family.
Lowe's sponsored this project, I really enjoy working with them and all their products. We completed the entire nursery in just two days because we were visiting Utah for Christmas and that is where my sister-in-law lives, who we did this nursery for. We had a lot of help to get this project done and a lot of encouragement from all of YOU over on my Instagram Stories. I am going to share the entire reveal today and I plan on doing a follow up post with the tutorial on how we built the window seat, hung the wallpaper, installed the plank wall (shiplap) and how we got the sconces to glow without being hardwired. Alright let's first see the darling couple. My sister-in-law (Kevin's sister) and her cutie hubby Blain oh and their current babies…
Aren't they so cute? This is their first baby and it is a boy! She is due in April. Below is the design plan for the nursery. So fun to see the idea and how it came together.
Everything will be linked at the end of the post along with a Highlight Video from my Instagram Stories of the process
I ordered everything for the room from Lowe's the first part of December. Everything arrived except for the dresser (which was due to my mistake). So we used something that they already had in another room for the photos. (She already had THIS crib).
Nursery BEFORE…
Nursery AFTER…
First thing, we painted the room in Pure White from Sherwin Williams and the ceilings (both in satin). It immediately brightened up the room. Then we wallpapered one wall with THIS wallpaper. It has a modern plaid pattern in a light smoke grey. This wallpaper would look so great in so many applications. I loved it for the nursery because it could grow with him and doesn't seem like a nursery wallpaper at all. Really everything in this nursery, besides the crib could go in any space! (I will share a detailed tutorial on how easy it was to wallpaper on a separate post.)
Besides the big DIY projects we tackled in this nursery. The essentials were the crib (they already had) and a nice rocking chair. I have a really similar rocking chair and really like the size and the modern lines. The fun jute ottoman from Lowe's is a piece that ties in a lot of the warm tones in the room and can easily be moved around.
I still can't believe we finished it two days! My brother-in-law, Corey (Kevin's brother) played a HUGE part in this makeover. He owned a wood floor company (he sold that business) so he is very handy and talented in building and working a saw. Just a helpful, smart guy. We were lucky to have him on this project.
Another Nursery BEFORE …
Nursery AFTER…
I shared a full tutorial on the wood plank or "Shiplap" wall HERE. It went up so quickly. We did use different paint for the wood planks and for the built-in-bookcase and window seat. It is Oxford White (semi-gloss) from Sherwin Willimans. I wanted there to be a slight difference from the walls. We also primed the bookcase and window seat before painting. The helpful guy in the paint department at Lowe's suggested just one can of paint and primer and it was exactly what we needed! (I did a little DIY project on that Toy Hamper you can find HERE)
One of my favorite things in the room is the bookcase. They had that little short wall and this bookcase made it seem like it was meant to be there. We just built the bookcases out of MDF! I have so many good tricks to share that Cory taught all of us on building this bookcase and the window seat. You can find that post on how we built the window seat and bookcases HERE.
And if you saw my Instagram Stories I couldn't wait to get the accessories on the shelves. The guys quickly painted the shelves and put them in but they told me I couldn't put anything on them! I said that is like giving a kids a piece of candy and saying they can't eat it! They eventually dried and I could play…
I stopped at a local second hand store and picked up a bunch of baby books, blocks, glass jars and wood toys to finish the look. The succulents and baskets I picked up at Lowe's! The baby animal prints can be found HERE.
We switched out the wood blinds for Levelor Woven Wood Shades from Lowe's. You can have any Levelor Window Shade cut size, right at Lowe's for free! This one just needed to be cut down a little and they did it so quickly. The shade also has a privacy liner, not blackout but I was really surprised at how well it darkened the room- way more than the wood blinds they had. THESE are the exact blinds we used.
I get asked often about styling bookcases. This image shows that it really isn't as hard as we make it seem in our heads! I kept everything really symmetrical and balanced. Notice the Lowe's woven baskets pull in the same texture and color of the Levelor Woven Shade and ottoman? The succulents I found already in those cute white pots at Lowe's and they are a critical element to bringing some life to the space (they only have to water them every couple of weeks). In a nursery using things you actually use like books and baby shoes are a great way to personalize the bookcase. I grounded the bookcases with THESE gray baskets I also picked up at Lowe's, they pull in that awesome gray wallpaper and window seat cushion (don't look too close at that, it isn't sewed yet:)).
I knew that I wanted to have a window seat built in their nursery for a couple of reasons-
#1- It would look amazing (obviously)
#2- Extra storage under the seat would be so handy
#3- Everyone wants to be where the new baby is, the extra seating will be so nice for them and visitors
Another feature that we added to the bookcases were THESE gold light fixtures. (I LOVE THESE!!) I did not want to deal with hardwiring them. So I came up with a light trick!! You can find that post HERE.
Last Nursery BEFORE…
Nursery AFTER…
Also changed out the light fixture for a timeless school house style that I found on Lowe's website.
The Mountain Art was just the piece I was looking for to personalize the nursery even more. I picked out that piece because Kami and Blaine love hiking and being in the mountains and I know their baby will be exposed to a lot of fun adventures in the gorgeous Utah Mountains too.
I mean….we had to put the dogs in the crib. haha.
I had to show a picture of the other rug I was debating. Kind of fun to see how a rug can completely change the look of a room. Kami and I both liked the darker rug better. But I ordered THIS light rug too after I saw that the nursery had dark carpet (I was ordering it all online without being in the room). Happy that we went with the original plan. Neither rug is wrong or right, just different looks.
I just want to thank Lowe's for sponsoring this post and allowing me to give this to my family. What a wonderful gift to have this sweet nursery ready for their baby. And also thankful that I can share how you too can easily create this look in your home. I was SHOCKED how easy it was to build these bookcases and window seat. Look forward to sharing the easy tutorial next week on these projects
You can easily click on any part of the room with a tag to shop it below… (PS- little video at the bottom)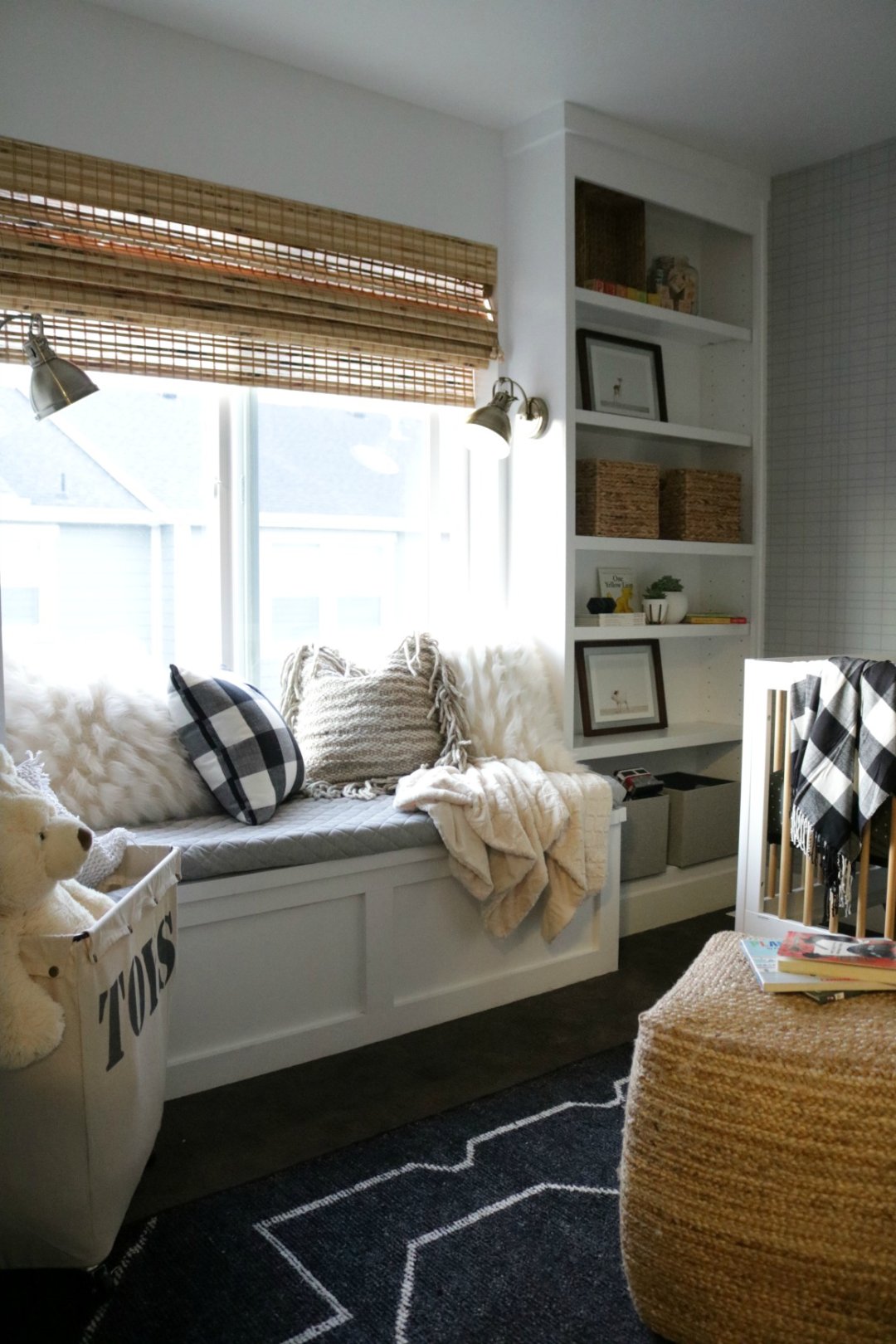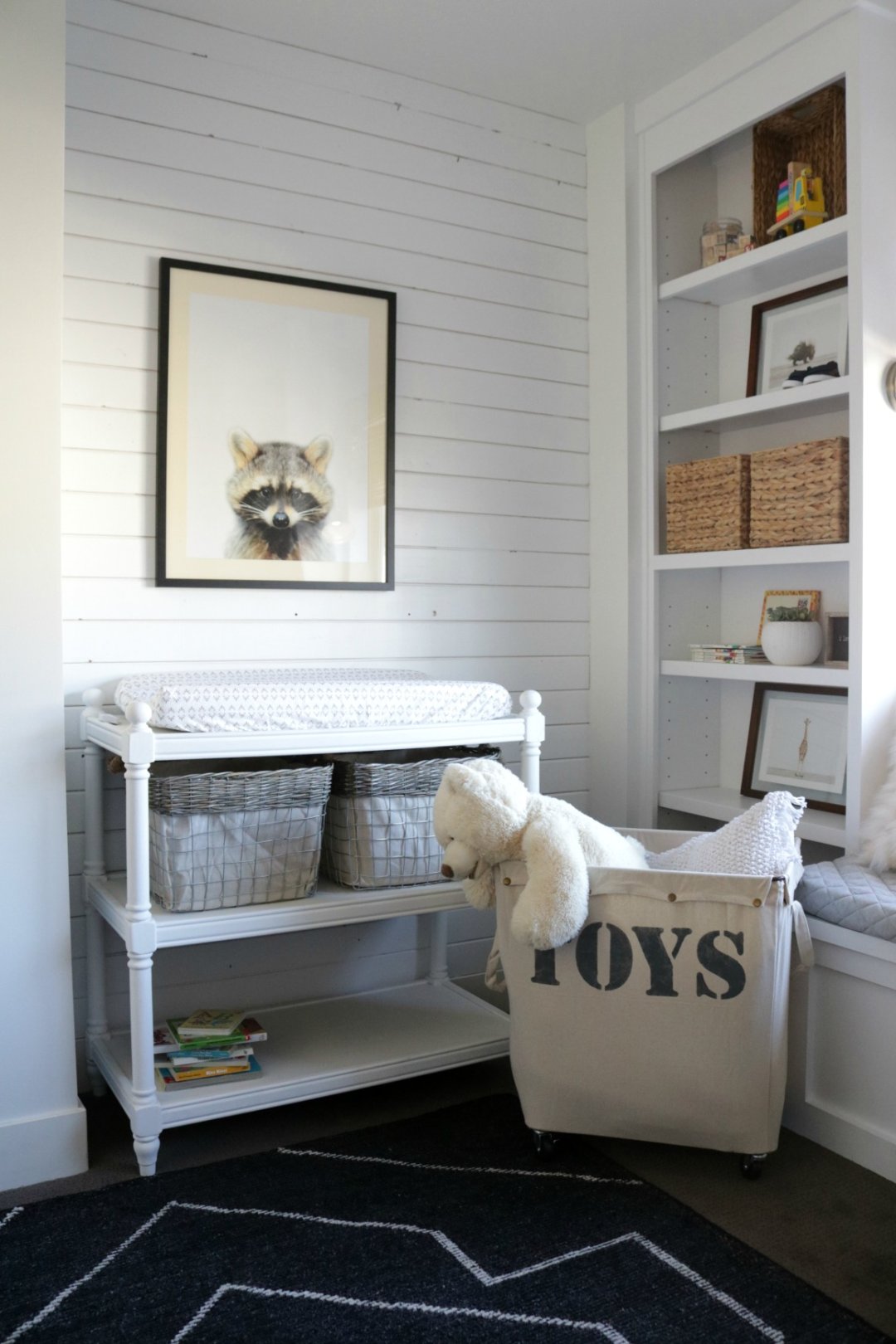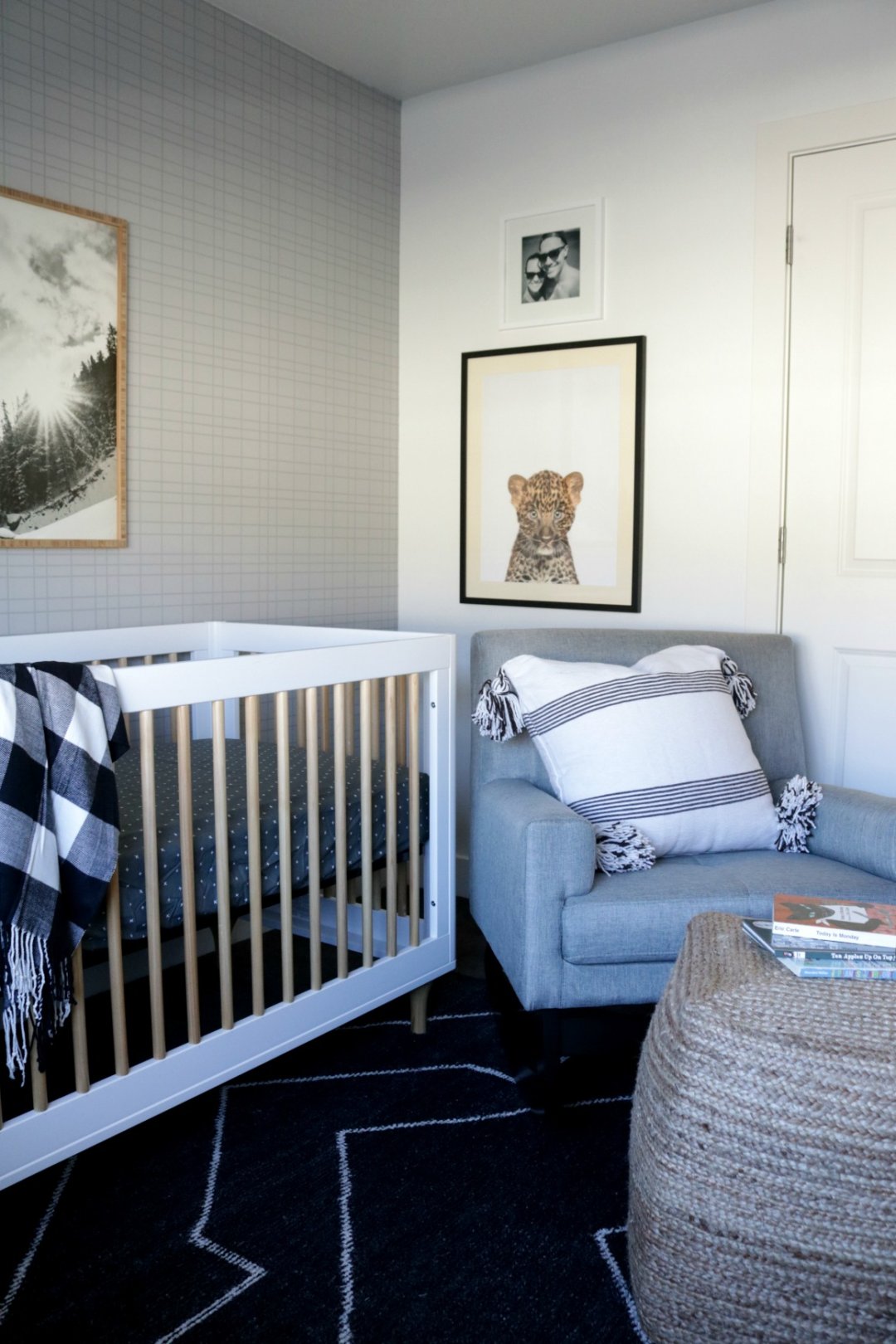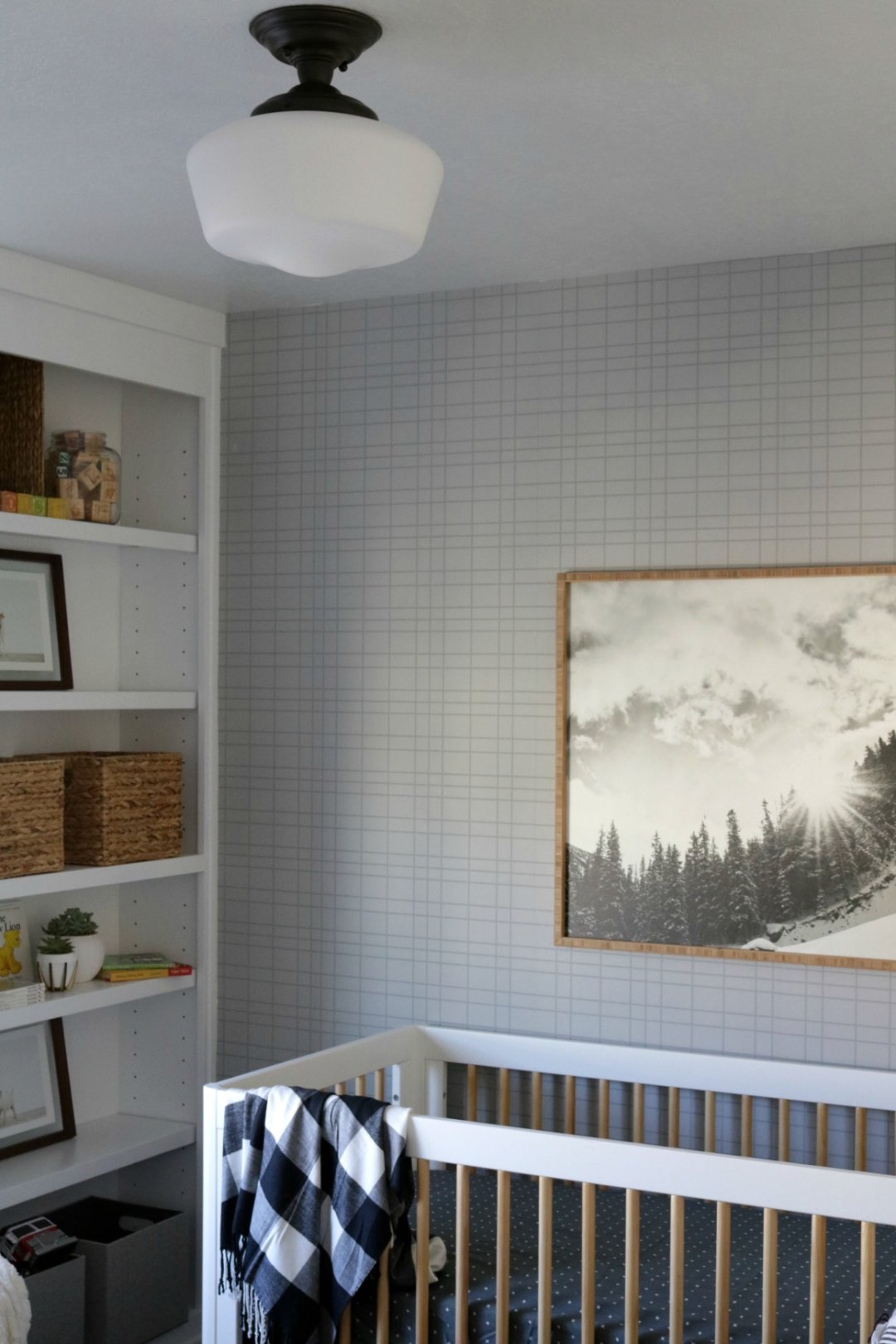 Click on an image below for the Tutorial